Rich's Page
My hobbies include music recording, playing tennis and running. I'll try to put some music up here soon.
When I was a kid I wrote a few assembler games for my calculator to get me through boring school lessons. http://www.ticalc.org has a good emulator if you want to try them out.
My publications are listed here
Results of a web design experiment can be found here
Puzzle Bobble for the Ti89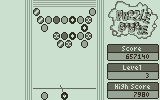 Simple remake of Puzzle Bobble, in 68k asm and C. I'm useless when it comes to graphics, but the game play is pretty good. Levels and scoring are the same as the original game. Partial two player support, if passed a number when the program is run.
Plane Jump for the Ti89 - Simple and Fast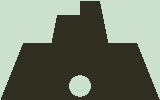 I know this program has already been made for the Ti89, but I quickly wrote this small version in 68k asm and C, which I optimised to make it as fast and as difficult as possible!
Solitaire for the Ti85

A simple and easy to use version of Solitaire for the Ti85 using ZShell. Written in Z80 asm.
Elevator for the Ti85

Bad graphics, but quite tricky. Written in Z80 asm.
---
This page last modified 2 June, 2006 by r.james