INFORMATION FOR
Prospective Students
Current Students
INFORMATION
Home
Group Members
Modelling
Devices
Downloads
Publications
PROJECTS
Funded
Undergraduate
Postgraduate
QUICK LINKS
Optical Devices
Ghent LC Group
GID


Liquid Crystal Microlenses
An LC microlens can be manufactured by depositing spots of photoresit on the lower alignment surface. It is assumed that the LC director follows the surface of the lens. When a planar ground electrode is positioned beneath the lens and then a voltage is applied, defects forms above the centre of the lens.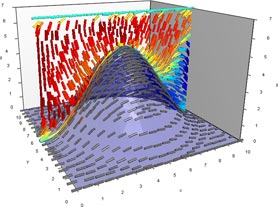 Fig.1: Director field about a sinusoidal microlens
Simulations show that if the ground electrode can be made to follow the surface of the lens, then this defect formation can be avoided. The focal length of the lens can be controlled by the applied voltage.
---
This page last modified 2 June, 2006 by r.james