INFORMATION FOR
Prospective Students
Current Students
INFORMATION
Home
Group Members
Modelling
Devices
Downloads
Publications
PROJECTS
Funded
Undergraduate
Postgraduate
QUICK LINKS
Optical Devices
Ghent LC Group
GID


Spherical Spacer
In a Pi cell there are two topologically distinct states that are stable, known as the horizontal (H) and vertical (V) state. A good explanation of the switching mechanism can be found here. In H state the directors splay, in the V state they bend.
There are two mechanisms that enable transitions between the two states, order reconstruction and nucleation (sometimes called domain growth). Order reconstruction requires a large voltage to be applied, so that the central directors undergo a 90 degree change in tilt through an intermediate biaxial state. The second mechanism requires a much lower voltage and is a slower process. Depending on the applied voltage, either the H or V state are favoured. If both states coexist in a cell, then domains will either shrink or grow.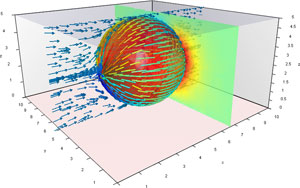 Fig.1: Director field about a spherical spacer in a Pi-Cell
When moving from the H to the V state, what is the voltage threshold to start nucleation? In a well aligned cell (with electrodes that only partially span the device) there won't be any V domains to grow, even if the voltage is high enough to favour the V state. Perhaps it is the spacers that act as a catalyst for this transition? Here, a spherical spacer in a Pi cell has been simulated, with planar degenerate anchoring on its surface. The spacer is found to facilitate the transition, but further study is required to determine the exact voltage threshold.
---
This page last modified 2 June, 2006 by r.james