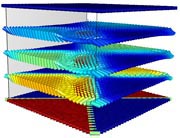 As part of the European Framework 5 project, monlcd, we have developed a 3D finite element program to calculate the dynamics of LC reorientation. Since completion of the project further refinements and optimisations have been made. A three-elastic constant formulation is used, and the user can select a vector or tensor representation of the LC orientation.
Device geometries entered using a CAD interface, allowing a wide range of complex geometric shapes. Program is very flexible and is capable of modelling large pixel sizes, using a fine discretisation, with meager memory requirements.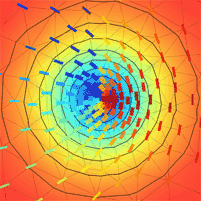 When disclinations are present, the LC ordering becomes biaxial near the core and the order parameter drops (as represented by the background colour of the figure to the right). We have developed Finite Element discretisations of the Qian and Sheng Equations in both 2D and 3D. The Qian and Sheng equations are a generalisation of Ericksen-Leslie theory for LC hydrodynamics to include changes in the order parameter. The Finite Element Method is well suited to resolve the rapid variations in order parameter about disclination whilst still being able to model large container sizes.
Three elastic constants
Adaptive meshing scheme based on an empirical error estimate
Crank-Nicholson time integration using a variable time step
Weak anchoring
Flow of the liquid crystal is calculated by solving the Navier-Stokes equations with a stress tensor that takes into account the anisotropy of the LC. Mixed interpolation (P2-P1 shape functions) are used to avoid oscillatory pressure solutions.
This implicit scheme leads to a larger memory use than the constant order program. However, the rapid spatial variations in the order parameter near disclinations severely limits the time step for explicit methods (<1ns!). We prefer the implicit method in this case to achieve reasonable simulation times.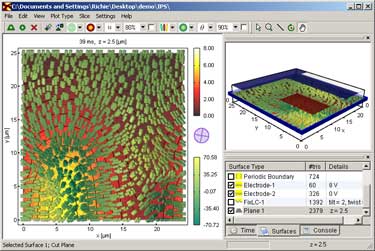 This program visualises director fields on both irregular and regular 2D and 3D meshes. Director plots can be made across slices, or sampled regularly in 3D space. Iso-surface plots of potential, twist and tilt can be made.
Built in Extended Jones optics code, for image plots or viewing angle plots. Free energy calculation, surface and contour plots.
Provides a means to rapidly convert results from irregular to regular meshes, as required for most optical calculations
---
This page last modified 2 June, 2006 by r.james